Other cultural highlights
The 'Pilatushaus' and Other Places
Not only a visit to Oberammergau Museum and the Passion Play Theatre provides an in-depth insight into the culture of the village. A walk around Oberammergau in the footsteps of Franz Seraph Zwinck is an art-historical and cultural experience for young and old. Pick up a flyer with a map and list of questions at the Museum, the Passion Play Theatre or the Tourist Information Office.
The Museum's Reverse Glass Painting Collection is, unfortunately, not open at the moment.
It was originally housed in the 'Pilatushaus' which boasts impressive façade frescos painted in 1784 by Franz Seraph Zwink. The collection gained greater importance through Wassily Kandinsky and Franz Marc, among others, who were inspired by the works and published nine of them in The Blue Rider Almanac in 1912. The orignals are displayed in Oberammergau Museum.
The 'Pilatushaus' (House of Pontius Pilate), that dates from the 18th century, gained its name from the impressive trompe l'œil frescos painted by the famous Lüftlmaler Franz Seraph Zwink (1748–1792). The nativity scenes he skillfully made of paper are displayed in the Nativity Scene section in the Museum. The 'Pilatushaus' is probably the best-known building with façade paintings in Oberammergau. It housed the Reverse Glass Painting Collection on the first floor and still yo can find there the 'Living Workshop' on the ground floor (entrance on the garden side). The building is diagonally opposite Oberammergau Museum at no. 10, Ludwig-Thoma-Strasse.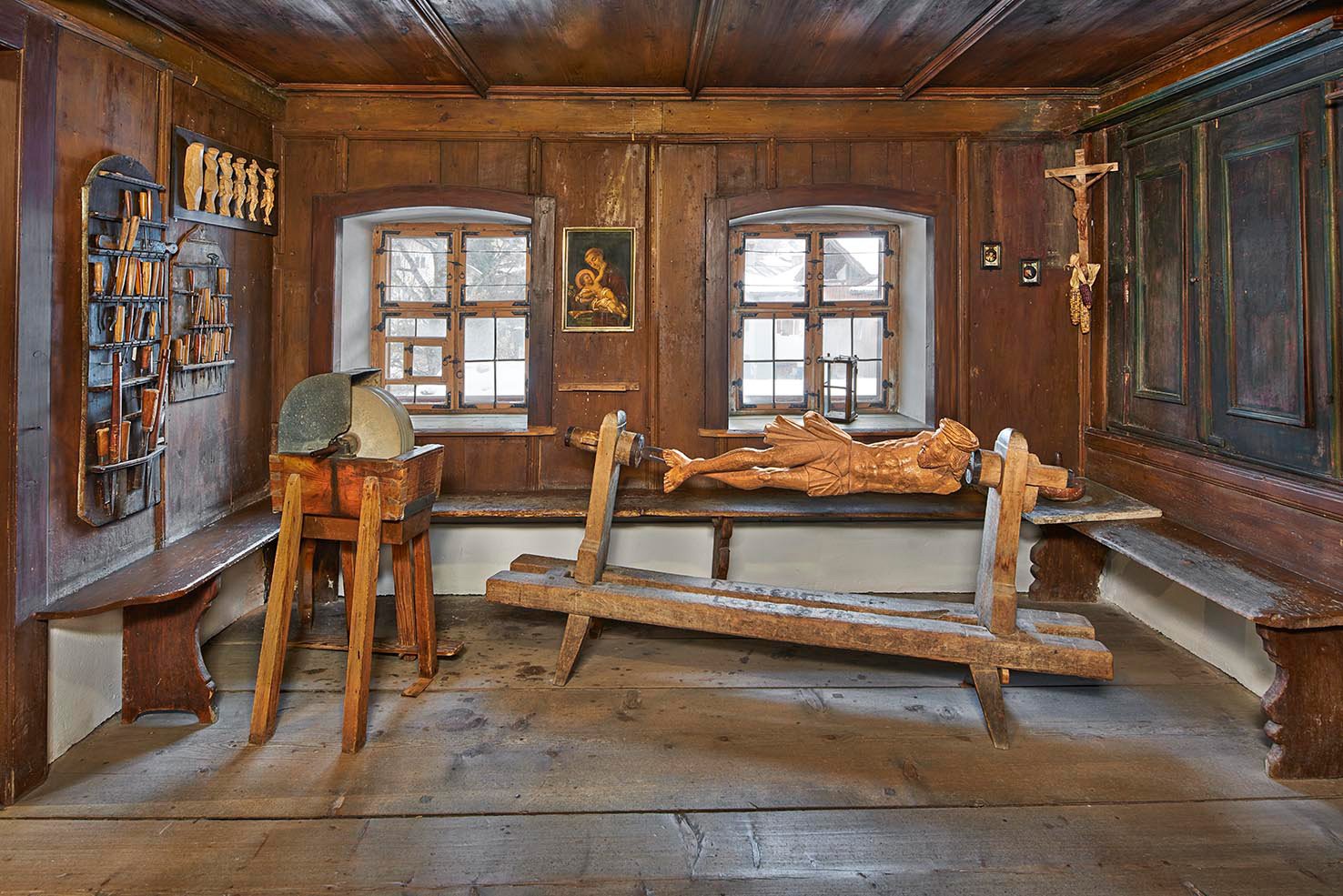 Living Workshop, Pilatushaus ground floor (entrance on the garden side)
Since 1977, visitors to the 'Living Workshop' in 'Pilatushaus' have been able to look over the shoulders of the artists and craftspeople working there and learn about the different techniques demonstrated.
Open from May until mid October and in Advent and around Christmas. Entrance is free of charge.